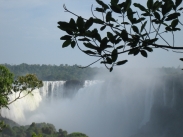 Universitary site of Denis Rolland,
professor Strasbourg's University
membre of the Institut Universitaire de France
Hello, You will find in particular on this site on
Latin America history, of Brazil in particular, International relations history and cultural relations in particular, Latin America, Spain and Portugal actuality
- information concerning my activity
(biography
), my
topics of research
, and the academic seminars or congress I'm organizing or participating,- presentation of my books
(personal or as editor) with at least Introduction and Table of contentson
International Relations History
, on
General o Comparative History
, on
Latin America History
or on
Brazil History
especially, on
Latin America today
, on
Interdisciplinary Problematics or other Geographical Areas
.
- some articles and documents on Latin America history or Latin America today (Latin America, Brazil, International Relations)
- and some practical informations (Espace étudiants; scientifics links) and documents (Gallery).
You will be able to download, with the detailed table of content, the introduction and certain elements of the books or articles published.





Dernière modification le 30/10/2009